The Quad Laser workbench is a dual beam DPSS blue laser.
This one has a power of only 250mW but being of very good optical quality, this laser can easily compete with the purple diode of 1000mW.
La base de travail du Quad Laser est un laser bleu DPSS double faisceau.
Celui-ci fait une puissance de seulement 250mW mais étant de très bonne qualité optique, ce laser peut concurrencer sans problème la diode violette de 1000mW.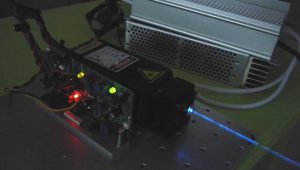 Here is the test without optical collimator
Voici le test sans optique collimateur
And now with optics. It will align the beams but as they are shifted very slightly then we remove a lot of divergence
Et maintenant avec l'optique. Celle-ci va aligner les faisceaux mais comme ceux-ci sont décalés très légèrement alors on supprime beaucoup de divergence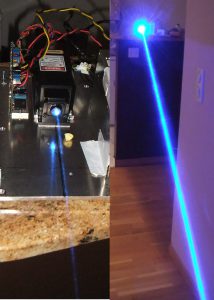 Below is a double beam laser of another brand (Melles Griot)
Ci-dessous on trouve un laser double faisceau d'une autre marque (Melles Griot)

Then now we can fix it on the beam table
C'est maintenant le moment de le placer sur la beam table