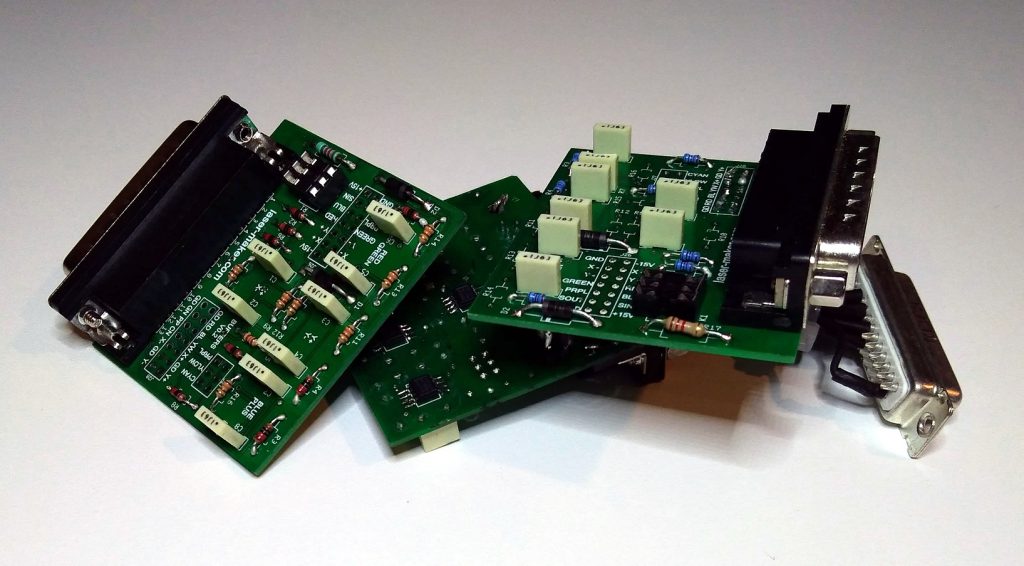 The ILDA buffer PCB copies the input signals and performs the galvanic isolation of the interlock with the PC
La PCB tampon ILDA copie les signaux d'entrée et réalise l'isolation galvanique de l'interlock avec le PC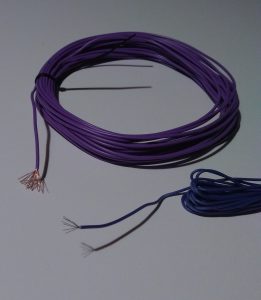 You have to use a good cable for signals
Section 0.75mm² (automotive grade) VS 0.2mm²
Il faut utiliser du bon cable pour les signaux
Section 0.75mm² (grade automobile) VS 0.2mm²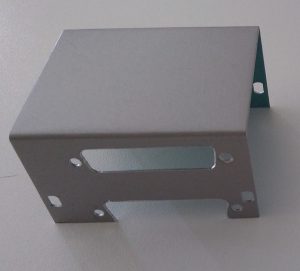 The TEKO 2B case is cut for DB25
Le boitier TEKO 2B est découpé pour les DB25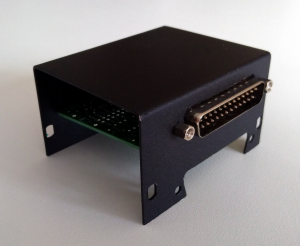 Then the painting
Ensuite la mise en peinture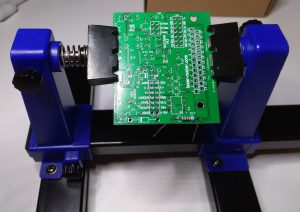 Let's go for soldering!
C'est parti pour la soudure!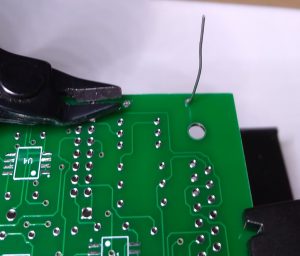 We cut well flush
On coupe bien à ras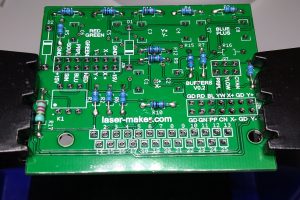 We solder the resistances first and then the capacitors
On soude les résistances en premier puis les condensateurs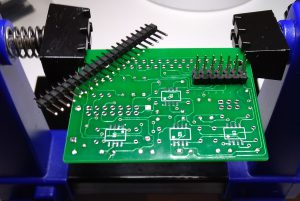 Then the breakable bars
Ensuite les barrettes sécables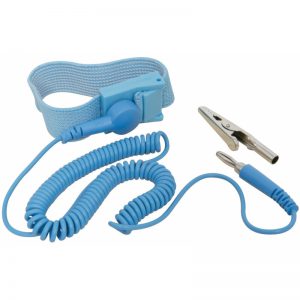 Now it's time to put the wrist strap
Maintenant c'est le moment de mettre le bracelet antistatique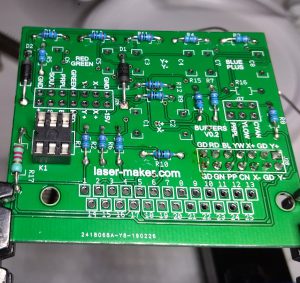 Placing diodes and support
Mise en place des diodes et du support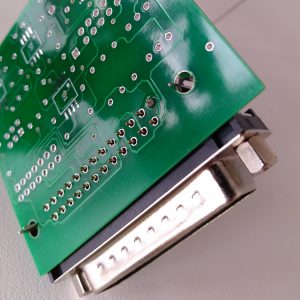 For the DB25 we only sold a pin for the moment
Pour le DB25 on ne soude qu'une patte pour le moment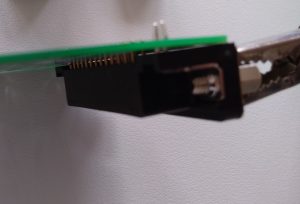 Be careful that there is no gap!
Attention qu'il n'y ai pas de décalage!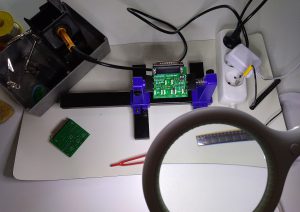 With an antistatic mat I solder the integrated circuits
Avec un tapis antistatique je soude les circuits intégrés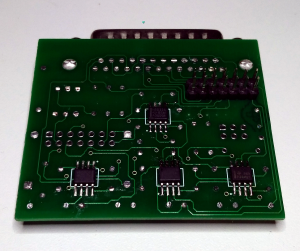 The 4 amplifiers are soldered …
Les 4 amplificateurs sont soudés…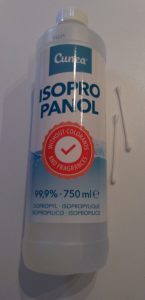 Now you need isopropanol alcohol
Il faut maintenant de l'alcool isopropanol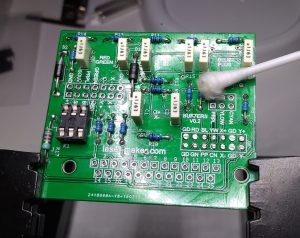 This to carry out the cleaning
Ceci pour réaliser le nettoyage
Let's place the wiring of the power supplies
 Mise en place du câblage des alimentations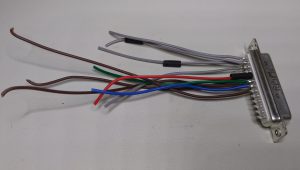 The ILDA output female connector
Le connecteur femelle de sortie ILDA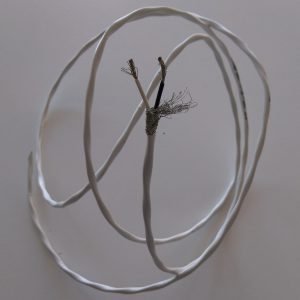 Here is the high quality cable for X / Y signals
Voici le câble de haute qualité pour les signaux X/Y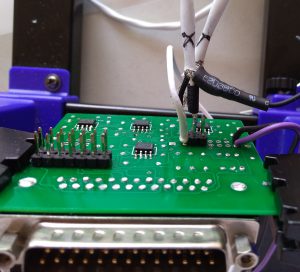 You need different heat shrink sleeves
Il faut différentes gaines thermorétractables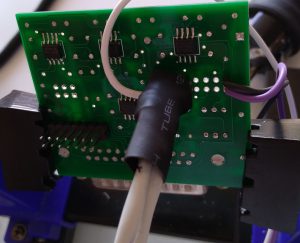 One last for the 2 cables
Une dernière pour les 2 câbles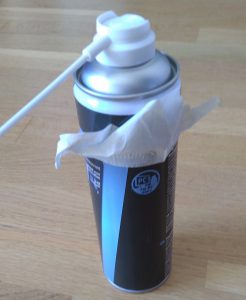 Inspection with a magnifying glass and a little dry air
Inspection à la loupe et un peu d'air sec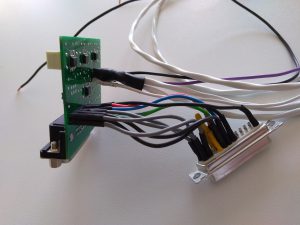 It's time to finish the wiring
C'est le moment de terminer le câblage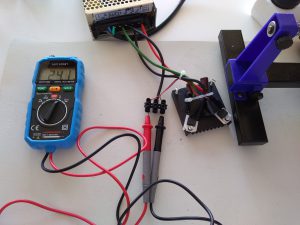 Power test with symmetrical power supply
Test d'alim. avec alimentation symétrique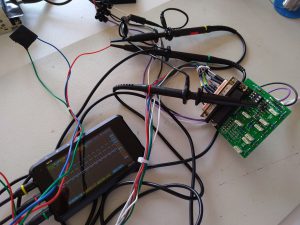 Test with an oscilloscope and a frequency generator
Test avec un oscilloscope et un générateur de fréquences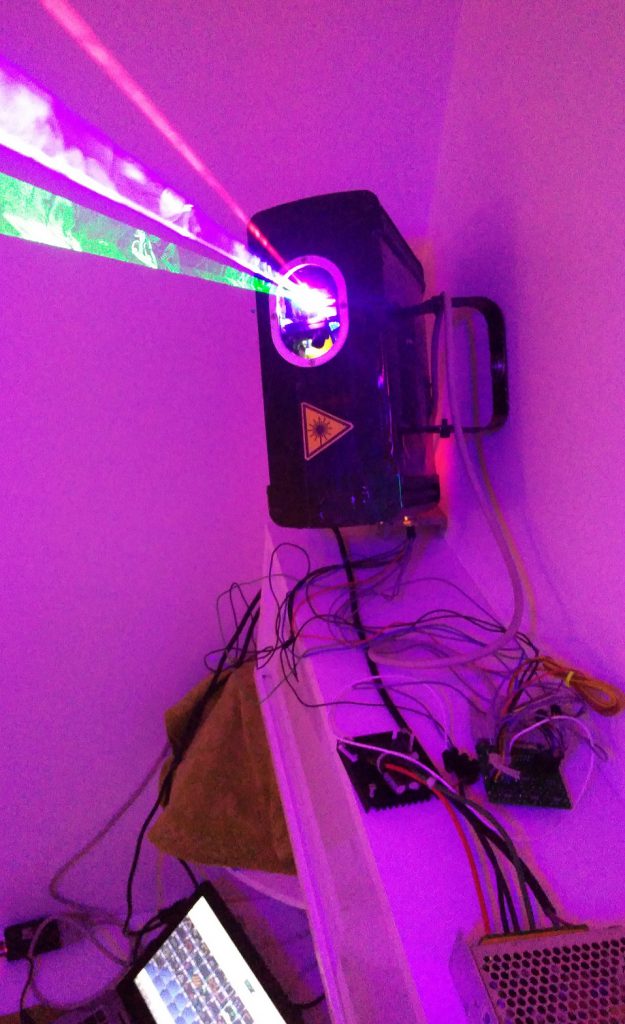 Finally I test with a small laser projector:
It is necessary to carry out the cabling of an output connector

Pour finir je test avec un petit projecteur laser:
Il faut réaliser le câblage d'un connecteur de sortie

Step 05 – CPU enclosure assembly / Etape 05 montage coffret CPU