An old laser using stepper motors will be converted into a pure diode laser of about 1000mW 🙂
Un ancien laser utilisant des moteurs pas à pas va être converti en laser pure diode d'environ 1000mW 🙂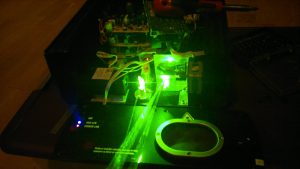 Like new laser enclosure
Le coffret pour le projet µlaser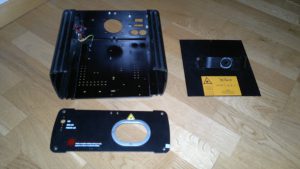 The scanners, amplifiers and electronic system is coming from another laser system
Un autre laser est démonté pour récupérer les scanners et le système électronique

This much better electronic controler is added to the project
Une bien meilleur carte électronique de contrôle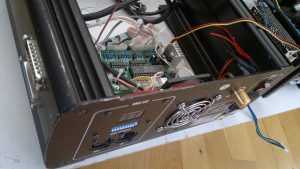 Addition of a 445nm laser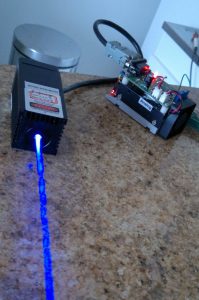 The first test shows that the red diode is too weak, the color balance isn't good, it's more cyan than white!
Premier test mais on voit que la diode laser rouge manque de puissance, en effet la balance de couleur tend vers le cyan au lieu d être blanche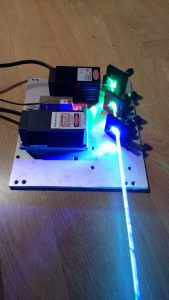 Then with the technology in 2017, you can get an half watt Mitsubishi diode in a single package! (tiny

amplifier)
Achat en 2017 d'une diode laser 1/2 W, plus puissante, avec un mini circuit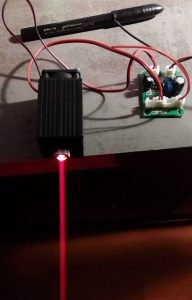 Premier test avant assemblage final. La couleur resultante est bien blanche maintenant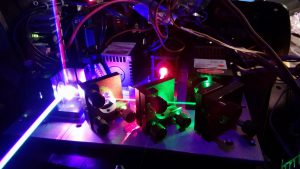 First test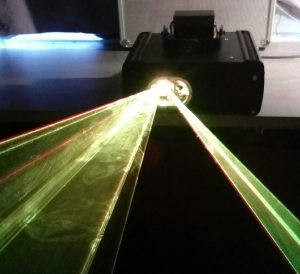 The modulation is digital on this μlaser, but it's already well regarding the size of the enclosure!
La modulation est numérique sur ce µlaser, mais c'est déjà bien vu la taille du coffret!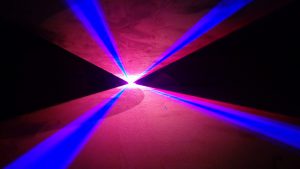 Mini size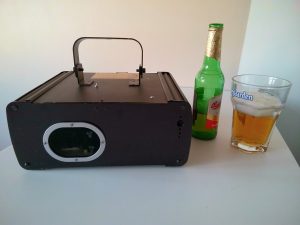 Color laser on the left
Le laser couleur à gauche